Besides LGM, JSC has accomplished a range of research and development works in creation a submersible plunger pump for ballast and trim-heeling systems of the inhabited deep-sea vehicle.
This unique pump is intended to be installed on a deep-water habitable apparatus (manned submersible), which can work at a depth of 11 000 m.
The creation of manned submersible for such depths requires optimal mass-energy indicators from manufacturers of associated equipment, stable operation throughout the required range of manned submersible diving, ensuring high performance and reliability and performance characteristics.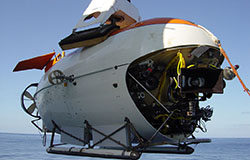 The ingeneers of LGM, JSC have designed and successfully tested a prototype of such a pump. Recently due to state customers' interests the enterprise has been developing a fundamentally new equipment.
Оne of the most significant recent works has become the creation of НГЛ pump..
It is a hermetic labyrinth-screw pump designed for pumping electrolyte in air regeneration systems. The electric pump НГЛ meets the highest requirements of vibration characteristics. In the course of design calculations and experimental work, a great number of shortcomings that are presented at the analogues has been eliminated.
Also LGM, JSC finished R&D project on the creation of a turbo-pump power plant (TPPP). The work was carried out in the interests of one of the enterprises of the Concern Sea Underwater Weapon. A developed turbopump is a pulsed unit able to supply 5 cubic meters of sea water per second. The TPPP will become an integral part of advanced underwater weapon systems.
Up-to-date requirements to pumping equipment make manufacturers improve material and technical base, processes and technologies that are aimed to develop new products.
Efficiency of the technological processes of production of pumping equipment is the main objective of LGM, JSC aimed at making optimal engineering decisions in the course of the execution of working projects.
We keep on developing, we are always in search for new forms and ideas that will help to create more perfect pumping equipment for the benefit of our Motherland.